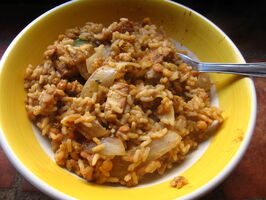 This typically delicious dish is delicious.
1 C Rice
500g Lentals (assumed to be a 500g container of pre-soaked)
1 small zucchini
1/2 lage onion
3 cloves garlic
spices: cumin, curry, peprika, cayenne, salt, clove (sesame seeds, garlic powder - both optional)
Infuse the rice water with roughly 1/8 tsp of each spice except the sesame seeds. Put the rice on. Cut the tofu into shape of your chouce (tetrahedrons if you're really good... I usually go with 1/2" cubes). In a small pan heat oil and sprinkle 1/8tsp of the same spices, this time including sesame seeds but excluding the clove. Fry tetrahedron-shaped tofu pieces until crisp, ensureing each side receives heat. In a large pan heat up the lentals and add the tofu, keeping the mixture on low. Chop the onion, and zuchini, then mince the garlic. Fry them in the small pan, leaving the spices from the tofu. Add the finished onions, garlic, zuchini and rice to the large pan and heat until ready. Add a pinch of salt to taste.
Spice suggestion: use varying amounts of peprika and/or hotsauce to control heat.
Variation: Serve hot or cold over half an avocado
Bjaminh 15:21, March 15, 2010 (UTC)