6 Large potatoes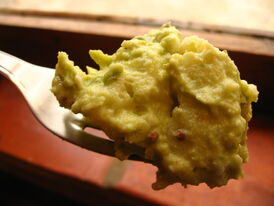 4 Eggs
2 Avocados (instead of mayo base)
3 tbls Mayonaise (approx)
1 tbls mustard (mustard seed style if you've got it)
5 Green Onions
2 Large crunchy pickles
Seasonings of your choice:
Garlic Powder, Perpika, salt, pepper, basil
Dill and lemon could be good...
Cut the potatoes into 1" cubes. Boil until semi-soft. Boil eggs (10 minutes).
Mix in a bowl mayo, avocado, diced green onion, egg, and chopped pickles. Season to liking.
Add Potatoes, mix and allow to cool in refrigerator.